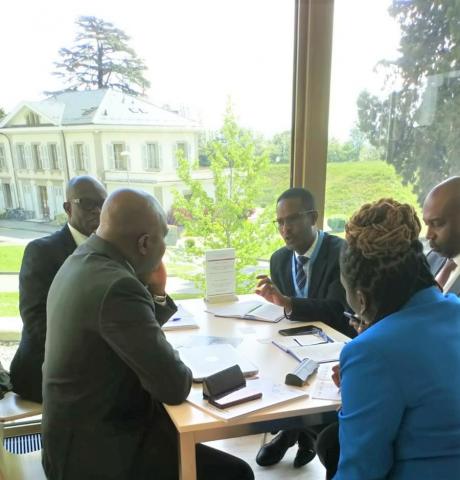 WAHO and Roll Back Malaria Discuss Partnership Issues at the 72nd World Health Assembly in Geneva
On Tuesday 21 May 2019, the DG of WAHO and his team comprising of his Executive Assistant, Yvonne Carver and the Director of Healthcare Services, Dr Kofi Busia, met with the Executive Director of Roll Back Malaria (RBM), Dr Abdourahamane Diallo and his team on the margins of the 72nd World Health Assembly in Geneva.
The purpose of the meeting was to accelerate the signing of the MoU between the two institutions, and to discuss other pending issues.
RBM considers WAHO a critical partner in the fight against malaria and they intend to support WAHO to strengthen its human resource capacity with the secondment of 2 personnel.
On his part the DG reiterated WAHO's commitment to the partnership and reassured the RBM team of his readiness to ensure that "the partnership is strengthened to our mutual benefit". He called for a partnership that is results-driven, transparent and accountable; a partnership in which WAHO is considered a much valued partner rather than as a mere conduit for programme implementation.
Subsequently, the DG and his team participated in a meeting on Digital Technology hosted by BroadReach, Novartis and Path at the Graduate Institute of Geneva within the precincts of the "Maison de Paix". In attendance were several Ministers of Health and many of the UN Agencies. Presentations were made on how to use digital technology to improve health, making the connection between Global Digital Health and Universal Health Coverage and Digital Technology having a transformational impact on health.