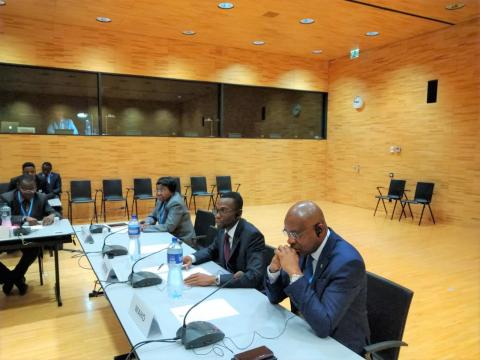 WAHO Organised a Breakfast Meeting for the ECOWAS Ministers of Health on the margins of the 72nd World Health Assembly
Geneva, Switzerland – On 22 May 2019, WAHO organised a breakfast meeting for the ECOWAS Ministers of Health on the margins of the 72nd World Health Assembly being held in Geneva. The meeting was chaired by the Honourable Minister of Health of Benin, Prof Benjamin Hounkpatin, deputising for the Honourable Minister of Health of the Federal Republic of Nigeria who had been recalled home for urgent national duties.
Notable among the issues discussed were:
Innovative strategies for eliminating malaria;
Innovative approaches for dealing with epidemics;
The need to analyse the malaria disease burden in each country and each health system;
The need for a coordinated and integrated response to address the high incidence of malaria;
Human resource for health deficit in the region;
How digital technology can be used to generate enough revenue to finance health;
Efficient use of available limited resources as part of any resource mobilisation strategy;
Compliance with medical code of ethics;
Leadership, Governance and Accountability in health; and
Application of quality management systems in health facilities.
The Ministers thanked the DG of WAHO for the initiative to bring them together to discuss such topical issues and proposed that in the future this meeting should probably be held on the eve of the World Health Assembly.
The meeting was held in the Conference Hall of UNAIDS and the Senior UNAIDS Advisor, Dr Joy Backory was invited to address the meeting.
He made a case on the good practices/lessons learned from the AIDS response as cost-effective interventions to address the priorities discussed by the ministers, particularly regarding:
Community expertise to provide health services in areas of prevailing insecurity;
The multidisciplinary/multisectoral approach of the AIDS response to inform the integrated malaria response; and
Community health workers as a strategy to address shortage in human resources in health.
UNAIDS, recalling the achievements of the UNAIDS RST-WAHO collaboration namely Pharmaceutical Plan and HIV-related stigma and discrimination, and broader health gains, raised the opportunity of the Regional Acceleration Plan on AIDS and Regional Support Team / UNAIDS Country Office support.
UNAIDS also flagged the need for improved performance on specific diseases, including HIV response, as it was strongly recalled at the 72nd World Health Assembly by the PEPFAR Ambassador.