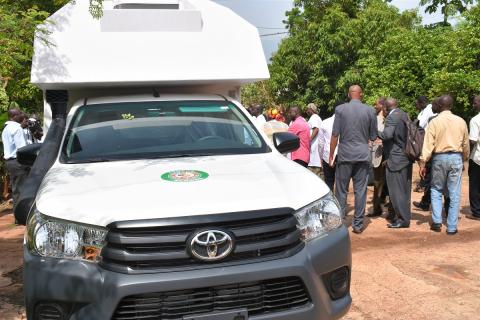 WAHO Supports Mali with a State-of-the-art Mobile Laboratory: For Microbiological Surveillance of Diseases Likely to Cause an Epidemic
Bamako, 11 September 2019 – The West African Health Organization (WAHO) on Monday 9 September 2019, has with the financial support of the African Development Bank donated a mobile laboratory to the Ministry of Health and Public Hygiene of Mali. The official handing-over took place the National Institute of Public Health of Mali.
The mobile laboratory is an off-road vehicle equipped with laboratory equipment (laminar flow hood, centrifuge, refrigerator, fluorescence microscope) for microbiological surveillance of diseases likely to cause an epidemic.  
This donation is to support the Malian Health Authorities in the provision of prompt and timely response to epidemics bedevilling the country, such cholera and meningitis. With this donation, WAHO is once more staying true to her mandate to protect the health of the people in the ECOWAS region: "To ensure the highest possible standard and protection of health of the people in the region through the harmonisation of policies of the Member States, pooling of resources, and cooperation with one another and with others for a collective and strategic combat against the health problems of the sub-region."
In making the donation, Dr Carlos Brito, Director for Public health and Research at WAHO, who represented the Director General, said "One key objective of ECOWAS is to ensure free movement in our region and to work to improve the integration of our countries". WAHO as the specialized institution in charge of health of ECOWAS is making it a priority the fight against epidemics because he added, epidemics can endanger free movement in our Community.
He pointed out that the ECOWAS region registers each year several epidemics in particular meningitis. This mobile laboratory according to Dr Brito will allow Mali to have more capacity in terms of early diagnosis and control of bacterial epidemics.
He added similar activities were being carried out with Burkina Faso, Niger, The Gambia and Senegal to cover the entire meningitis belt of our community region to enable our Member States to have more capacity in this fight.
In response, the Director of Research, Dr Thierno Tenin Houa, who represented the Director General of the National Institute of Public Health, thanked WAHO for the donation which she believes will help them obtain real-time information to enable them prompt decision-making for the prevention and response to epidemics.
"The country needs it; we need it. Mali's territory is so vast, and when there is a problem somewhere, it is very difficult to quickly despatch a team on the ground… Now with this mobile laboratory, with specialists and technicians on board, the information will be available in time to allow for quick decision-decision" Dr Thierno happily noted.