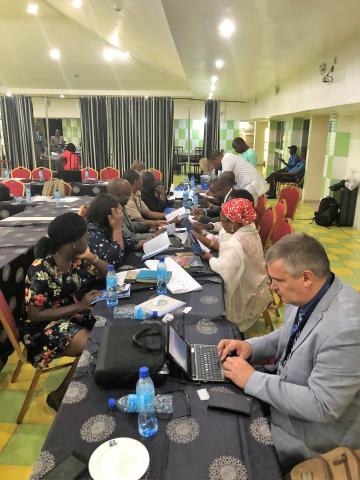 WAHO holds national consultative meetings for the establishment of national EMTs
Nigeria has continuously suffered a chain of diseases and outbreaks such as Lassa Fever, Meningitis A and C, Influenza Cholera, Yellow Fever, Ebola and others. Nigeria also experienced natural and man –induced disasters. All these brought to the urgent need for us to strengthen our health systems as well as our surveillance, preparedness and response capacities. Lessons learned from recent national operations in particular during Ebola outbreak have also led to increased awareness of the need for flexible and effective Emergency Medical Team (EMTs) coordination mechanisms in the country.
It is against this background that WAHO in collaboration with WHO (Country Office, Regional Office in African region and Headquarters) decided to strengthen the case management during health emergencies response by setting up an EMT. Basically, EMT's are groups of health professionals and supporting personnel providing direct clinical care to populations affected by disasters or outbreaks and emergencies as surge capacity to support the local health system.
After a regional awareness workshop on the establishment of EMT held in Grand – Bassam (Cote d'Ivoire) in June 2018, WAHO is now supporting national consultative meetings for the establishment of national EMTs as well as their coordination mechanisms in the ECOWAS member states. The objectives of the meeting are :- i) Discuss the EMT concepts and its relevance in response to epidemics and other health emergencies;- ii) Identify potential EMTs and human and material resources needed (number and profile):- iii) Develop a comprehensive roadmap with milestones in the upcoming months to establish Nigerian EMT. The participants of this strategic event include relevant officers from Nigeria CDC, representatives of all State Ministry of Health in Nigeria, National Emergency Management Agency (NEMA), Nigeria Army, Nigeria Immigration Service, Nigeria Security and Civil Defense Corps and the National Public Health Development Agency (NPHDA).
WAHO wishes that this 3-days workshop, should be an opportunity to agree on a multisector action plan. WAHO would like to congratulate His Excellency Professor Isaac Adewole - Federal Minister of Health FMOH and Dr Chikwe IHEKWEAZU, CEO of NCDC for their proactive leadership in their commitment in the establishment of EMT in Nigeria. WAHO would also express special vote of thanks to AFENET, GIZ, Public Health England and all other partners supporting Health emergencies response in Nigeria.