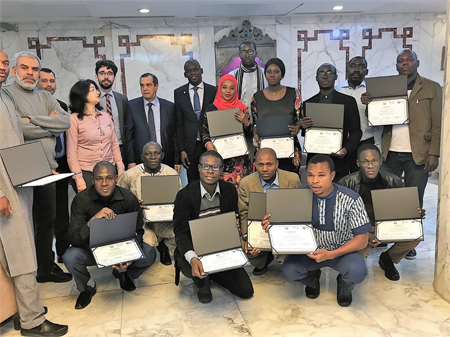 Date: 2018-02-08 10:37:12 ID: 1801

The West Africa Health Organization, (WAHO) organized two training sessions on metrology and laboratory equipment maintenance, with financial assistance from the German Metrology Department (PTB).
One session was organized for francophone participants from 15 to 26 January 2018 in Tunis and another for Anglophones from 22 January to 2 February 2018 in Accra.
The principal objective of the training was to give participants the necessary skills for metrology work in a laboratory, the key points on ISO 10012 standard "Requirements for measurement processes and equipment ", on the establishment of technical calibration procedures, and the quality control of diagnostic laboratories.
The two training sessions brought together the Directors of quality and maintenance from regional reference laboratories of ECOWAS member countries.
In all, 27 participants from regional reference laboratories (1) were trained and certified; (2) were equipped to establish metrology management policies, which are indispensable for the accreditation process of medical laboratories in conformity with ISO15189 standard. They are able to undertake the calibration of their basic equipment (pipettes, balance, thermometer, etc.). The needs for equipment were also determined and validated.
It is worth noting that within the framework of the operationalization of the ECOWAS regional Center for Disease Control and surveillance, a system of efficient laboratories is a sine qua non requirement for surveillance and early warning and for an adequate response to Public Health events. Consequently, in 2016, WAHO established a network of regional laboratories, the objective of which is to improve quality and access to diagnostic services and strengthen the control of epidemic-prone diseases in ECOWAS member countries through the pooling of all regional technical capacities towards improving epidemiological surveillance in the ECOWAS region by leveraging the services of quality laboratories.
An analysis of the quality management system at the Regional Reference Laboratories in 2017 led to the identification of challenges in equipment maintenance and in metrology and the need for training to ensure quality preventive and curative maintenance. It is within this framework that WAHO, in collaboration with PTB organized the two training sessions in order to facilitate accreditation and even the certification of the reference laboratories.
C/Com/OOAS/HHK/070218